In today's fiercely competitive market, businesses are constantly seeking innovative ways to enhance their brand presence and create lasting impressions. This article explores the journey of Fulikai, a renowned flip flop manufacturer, in designing and manufacturing custom promotion EVA board flip flops for AirAsia. Leveraging their expertise in the custom slippers industry, Fulikai delivered exceptional quality and service to their valued client, AirAsia. This captivating project showcases the immense potential of promotional products in solidifying brand loyalty and reaching a wider audience.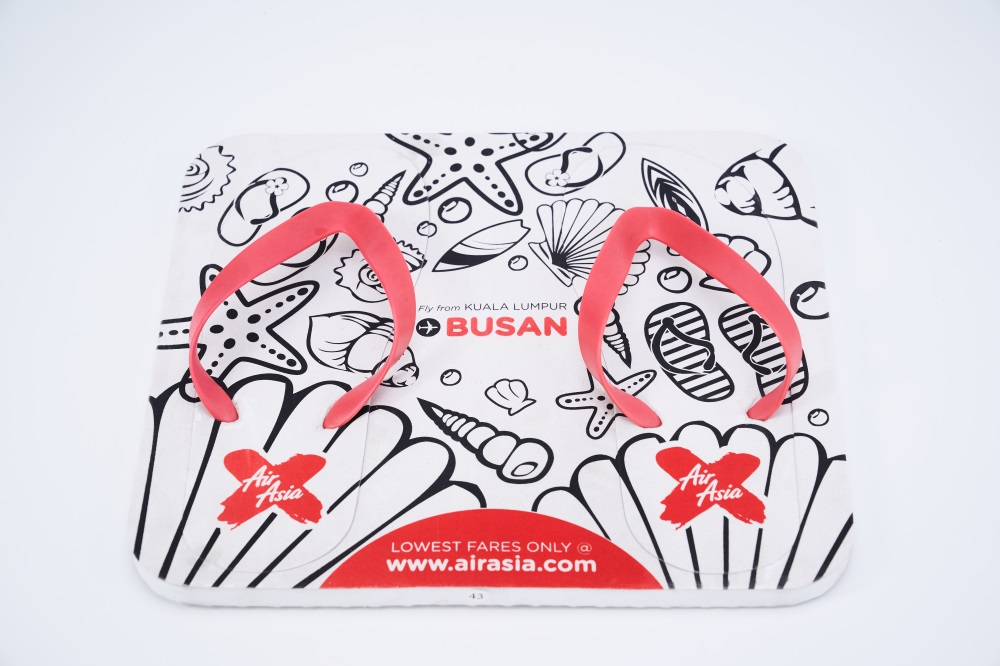 1. Meeting the needs of AirAsia:
AirAsia, a leading low-cost airline, approached Fulikai with the vision of creating high-quality promotional products that would captivate their customers. With extensive experience in slipper manufacturing and a reputation for excellence, Fulikai was well-positioned to cater to AirAsia's unique requirements. The project aimed to produce custom EVA board flip flops that would serve as a memorable giveaway item, bearing the AirAsia logo and aligning with the airline's brand image.
2. Fulikai's comprehensive service offerings:
Fulikai prides itself on providing comprehensive ODM and OEM services for slipper manufacturing. Their wide range of processing technologies, including cutting, embossing, hot pressing, engraving, washing, and heat transferring printing, allowed them to bring AirAsia's vision to life. By leveraging their expertise and capabilities in these various techniques, Fulikai ensured that every detail of the custom promotion EVA board flip flops contributed to the promotion of the AirAsia brand.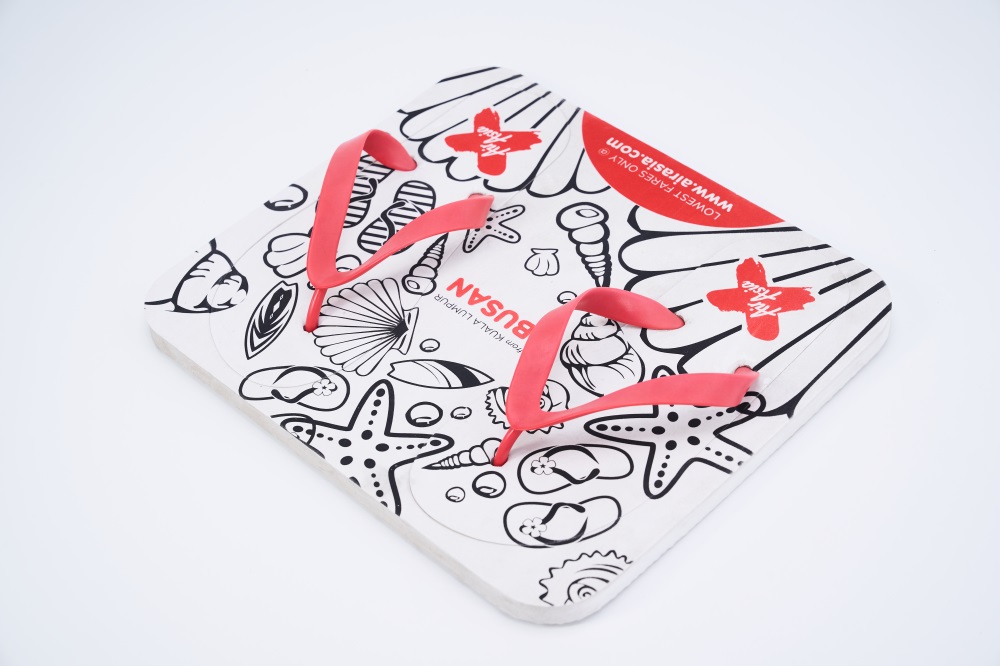 3. Unwavering commitment to quality:
Recognizing the importance of maintaining a high standard of quality, Fulikai employed rigorous quality control measures at every stage of the manufacturing process. From sourcing superior materials to employing skilled craftsmen, every aspect of production was closely monitored to ensure the flip flops met AirAsia's expectations. Fulikai's reputation as a flip flop wholesale supplier served as a testament to their commitment to providing top-notch products to their clients.
4. Building brand loyalty through customization:
Customization played a pivotal role in this project. Fulikai, with their expertise in manufacturing custom slippers with logos, incorporated meticulous attention to detail, ensuring that the AirAsia logo was prominently displayed on each flip flop. This personalization not only enhanced the aesthetic appeal of the flip flops but also created a sense of exclusivity and brand loyalty among AirAsia customers.
5. Expanding promotional reach:
Promotional products have long been recognized for their effectiveness in reaching a wider audience. The custom promotion EVA board flip flops acted as portable billboards for the AirAsia brand, leaving a lasting impression wherever they were worn. As AirAsia customers proudly sported their branded flip flops at various destinations, the airline's visibility soared, effectively expanding its promotional reach far beyond traditional marketing channels.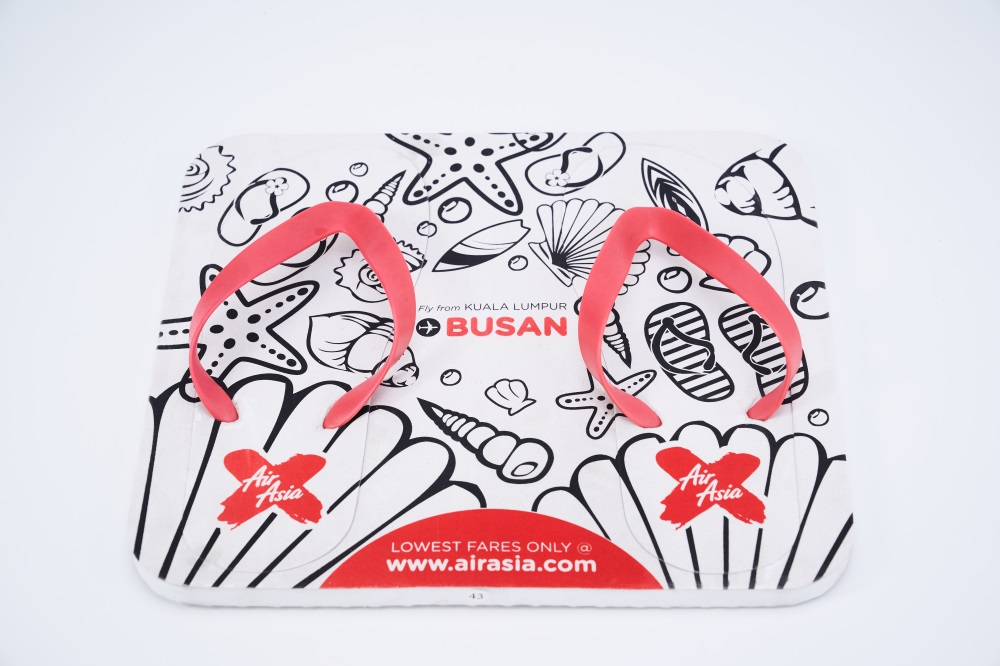 6. The culmination of success:
The custom promotion EVA board flip flop project for AirAsia was an immense success. Fulikai's dedication to delivering high-quality products aligned perfectly with AirAsia's commitment to providing exceptional service. Through this collaborative effort, Fulikai was able to create a tangible representation of AirAsia's brand message, simultaneously enhancing customer satisfaction and elevating the airline's brand image.
The story of Fulikai's custom promotion EVA board flip flop project for AirAsia exemplifies the transformative power of promotional products. By harnessing their expertise and leveraging their reputation as a trusted slippers supplier, Fulikai delivered beyond expectations. This project serves as an inspiration for businesses looking to enhance their brand presence, create lasting connections, and reach a broader audience through personalized promotional products.